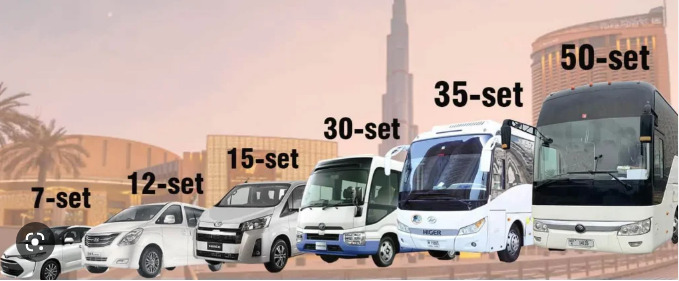 Your business needs best transportation in Dubai which always a priority for us.
Reliable services show the same level of care whether you need one small group to travel to a conference from state to state.
If you have thousands of people that need to be transported from the airport to the nearest convention center on an ongoing basis throughout the day.
Our buses are ready to take care of your traveling needs. SBRT buses will be ready around your schedule. You can rent one bus or multiple buses to meet your needs. We want to make sure that you have space for everyone in your group.
Business meetings and conferences can be hard to find if you have people traveling from a different location. Its pleasure we will be happy to pick up your meeting attendees at any location to make sure that they can safely get to your conference.
We return attendees to their hotel rooms on time or to the airport after your event is finish.
We can even stop at a popular restaurant or sightseeing spot on the way back. Our buses can be a convenient option if you want to show your conference attendees that you care.
 By choosing us for your group transportation needs, you can be sure that your group will be taken care of professionally. From our well-maintained vehicles to our world-class captains we do all that we can to provide excellent services that will surpass your expectations with suitable rates. We look forward to providing luxurious services. 
Get in Touch With Best Transportation in Dubai
If you are interested in learning more about our groups, conferences, and meetings transportation services, contact us today for more information and easy booking.
You can contact us via
 Email : starbusrental@gmail.com
Call or Whats app : 052 7444509 
CAPACITY : Star bus Rental have wide range of vehicles including  10 seats, 12 seats, 14 seats, 15 seats, 20 seats, 22 seats, 25 seats, 30 seats, 34 seats, 35 seats luxury , 50 seats luxury, 60-66 seats AC bus. 80-84 seats AC and Non AC buses for labours.
Areas  Of   Working : Star Bus Rental is now working in the domain of
Staff Transportation, Hotel Transportation, School staff Transportation , Site workers , Bank staff transportation.

Mode  Of  Hiring  :  With/without Driver & Fuel
Services : Dubai Transportation, Labor Transportation, Staff Transportation, Staff Busses, Labor Busses, Labor Rental Busses, Staff Rental Busses, Busses in Dubai
,Rental System, Transportation System, Transportation in Dubai, School Busses, School Transportation, School Rental System, Rent a Bus, Bus Rent.
Dubai Rent, Dubai Busses, Sharjah Busses, UAE Rental System, UAE Transportation, UAE Busses, UAE Staff Busses, UAE Labor Busses.
Hotel Busses, Hotel Transportation, Airport Busses, Airport Transportation, Busses, Rental, Star Bus Rental System, Star Bus Transportation.
Star Busses, Busses in Sharjah, Transportation in Sharjah, Ajman School Busses, Yellow School Busses.
35 Seater, 15 Seater, 14 Seater, 30 Seater, 84 Seater, 80 Seater, 50 Seater, 34 Seater, 12 Seater, 13 Seater,
Luxury Busses, 20 Seater, 22 Seater, 25 Seater, 66 Seater, 84 Seater, 37 Seater