14 Seater Hiace Van For Rent
Planning a vacation to Dubai for work? The success of your trip depends on choosing the right rental agency. We at Star Bus Rental LLC are aware of how significant this choice is. We are committed to providing you with the most affordable pricing for a 14 Seater Toyota Hiace Rental because of this. You can count on receiving excellent services at a fair price as a client of ours.
We offer 14-seat minivans and 13–15-seat buses for weddings, tours, and other travel-related events. For our daily journeys from all Emirates of the UAE to various locations, including but not limited to Dubai, Sharjah, and Abu Dhabi, we use Hiace mini vans at reasonable costs with bus rental service. For your groups or small families, select one of our 14-seater minivans or buses. The most popular bus service in the UAE is the 14 Seater Hiace for rent in Sharjah. For the past 15 years, the phrase "14 seater Hiace" has been used frequently in the transportation sector. The term "14 seater Hiace" might refer to a bus with 12 seats, 14 seats, or even 15 seats.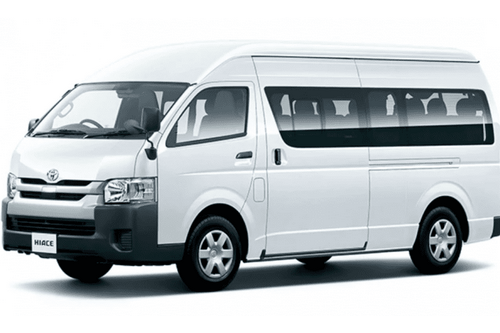 HIACE VAN
AED4500
---
Why 14 Seater Hiace Van For Rent in Dubai?
We offer a comprehensive selection of private, recreational, and corporate chauffeur services. Modern, opulent vans and large, fuel-efficient vehicles are part of our fleet. Whether you are traveling alone, with your family, or for a crucial business meeting, we provide a wide choice of rent a van alternatives to let you tailor your automobile rental experience. The 14-seater high-roof hiace is perfect for large families or group outings, such as excursions and road trips, to the airport. We provide competent, fully insured van rentals with drivers who are familiar with all roads—highways and byways—in Dubai. Our facilities, which range from comfortable and luxurious to affordable, are available for immediate hire via our website or phone call.
Dubai Bus Rental Rates – 14 Seats Hiace Van Rental Dubai
| | |
| --- | --- |
| 14 Seater Minivan | Per Days Rates Within Town – 5 to 10 Hours (AED 550 – 850) |
| 14 Seater Minibus | Monthly Rental– 26 Working Days (AED 7500 – 10500) |
| 14 Seater Bus | Weekly Rental – 6 Working Days (AED 4000 – 5000) |
| 14 Seater van | Per Hour – Minimum Rental (AED 75) |
| 14 Seater with driver | Out of Town like Abu Dhabi, Sharjah, Ajman, Khorfakkan, Hatta From Dubai (AED 800 – 900) |
| 14 Seater Hiace | Airport Transfer Rates Including Parking (AED 390) |
| One Way Transfer | Dubai to Dubai & Sharjah (AED 250 – 400) |
| Two Way Transfer | Dubai To Dubai or Sharjah (AED 400 – 600) |
These Prices are mentioned for booking on same day
| Seating Capacity | Daily Rate (AED) | Weekly Rate (AED) | Monthly Rate (AED) |
| --- | --- | --- | --- |
| 14-Seater Van | 650 – 850 | 3,800 – 4,800 | 8,500 – 11,500 |
The Usage of 14 Seater Van Rental Dubai
Airport Transfer, Tourist Transportation, Staff Pick and Drop, Hotel Transfer, Parties Shuttle Services, Events Charter, Sight-seeing, Group Travel of passengers outing,  Friends & Family Trips, Event, Trips & Tours Transportation, 
Top Features of 14 Seater Hiace MiniVan
| | |
| --- | --- |
| Types of Buses | 10 Seater/ 12 Seated / 13 Seats / 14 & 15 Seater Hiace Mid-Roof Hi-Roof   |
| Brand in Use | Toyota Hiace, Nissan Urvan , Hyundai H1 |
| Mode of Hiring | With Driver & Fuel, With Driver but without fuel |
| Capacity of Bus | 11 Seats + Driver Seat |
| Fuel Type | Petrol |
| Leasing Time | For Single Day , Weekly & Monthly |
| Features | Spacious inside , Clean Seats , seats belts , MIC , AUX |
| No of Doors | 3 |
Enjoy your journey with high level of safety and comfort.You can also see other all vehicles fleet on daily, weekly and monthly basis services.
Are you looking for a Best Bus Rental transport company in Dubai?
Whether you are looking for classic bus or minibus, we have them all, from big to small.We offer the best bus rental Dubai & Sharjah rates in comparison in the market along with excellent customer service. 
Benefits of Hiring a 14 Seater Van From Us
Book a Cheap 14 Passenger Van in Dubai
Hire a 14-seater Hiace Van in Dubai
Why Choose Our Rental 14 Seater in Dubai
Benefits of Hiring a 14 Seater Van From Us
For those traveling in a large group, renting a 15 Seater Toyota Hiace in Dubai has many benefits. All passengers may travel in comfort and with enough legroom and headroom thanks to the Toyota Hiace High Roof's spacious interior. This makes traveling more enjoyable overall and less claustrophobic.
The cost-effectiveness of renting a 15-seater Toyota Hiace is an additional benefit. When traveling in a big company, the price per person can be less expensive than other modes of transportation, especially if you think about taking individual cabs or renting multiple cars.
Especially when compared to taking individual taxis or hiring multiple automobiles, the cost per passenger may be lower when traveling in a large group compared to other modes of transportation.
Book a Cheap 14 Passenger Van in Dubai
Hire a 14-seater Hiace Van in Dubai
Why Choose Our Rental 14 Seater in Dubai