20 Seater Bus Rental In Dubai

Looking to rent a 20-seater bus or coach in Dubai or Sharjah, United Arab Emirates? Yes, you've come to the right spot. Star Bus Rental Tours & Travels Rent offers 20 SEATER bus rentals in Dubai, United Arab Emirates. Toyota Coasters have a capacity of 20 passengers, making them ideal for mid-sized groups going on business trips or local errands. Book a 20 Seater Bus rental in Dubai now for your transportation needs in Dubai! 20-23 seater bus for buses for staff transportation, Labor Transport, Airport Transfer, Wedding Events, Party Bus Rental, Trip Bus and City Tour Bus Rental. The 20-passenger Toyota Coaster is the ideal vehicle for a medium-sized group going on a business trip or just getting around town.You may count on unmatched services and reasonable prices as one of our valued customers. The pinnacle of luxury and comfort is the 20 Seater Luxury Bus On Rent. This luxurious bus, which is intended to carry medium-sized groups, redefines how we experience transportation by providing passengers with a seamless and opulent journey.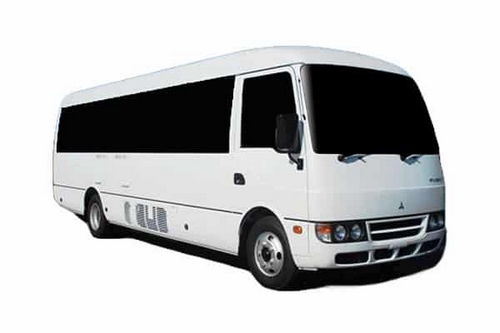 MINI BUS
AED5500
---
Why 20 Seater Bus For Rent in Dubai?
For your transportation requirements in Dubai, reserve a 20-seater minibus right away! We provide fully air-conditioned buses that are operated by qualified professionals through our dependable and inexpensive services. With our pristine and comfy buses, you may travel in safety and comfort. We have affordable prices available to make sure your party arrives safely, whether it's an airport pickup or transportation for sightseeing, weddings, or any other occasion. Get in touch with us right now to reserve a 20-seater bus with a driver and enjoy hassle-free transportation.
Dubai Bus Rental Rates – 20 seater Bus Hire in Dubai
| | |
| --- | --- |
| Per Daily Rent | 20 Seater MiniVan  Per day Bus with driver & fuel max 10 hours per day AED 800 – 850 |
| Monthly Rent | 20 Seater MiniBus  Bus with driver but without fuel(AED 8000 – 9000) |
| Weekly Rent | 20 Seater  Bus with driver & fuel max 10 hours daily – 6 Days a week (AED 3000 – 4000) |
| Airport Transfer Rate | 20 Seater Coaster AED 450 + Parking Fee if any, Hotel transfer costs AED 400 inside Dubai |
| 20 Seater with driver | Out of Town like Abu Dhabi, Sharjah, Ajman, Khorfakkan, Hatta From Dubai (AED 800 – 900) |
| 20 Seater Luxury Bus | For VIP Airport Transfer, Guests, Event, Sightseeing AED 1000 |
| One Way Transfer | Dubai to Dubai & Sharjah (AED 400 – 600) |
| Two Way Transfer | Dubai To Dubai or Sharjah (AED 500 – 700) |
These Prices are mentioned for booking on same day with driver
| Seating Capacity | Daily Rate (AED) | Weekly Rate (AED) | Monthly Rate (AED) |
| --- | --- | --- | --- |
| 20 Seater Bus Rental | 700 – 100 | 4,200 – 6,000 | 9,500 – 12,500 |
The Usage of Rent 20 Seater Bus In Dubai
Dubai Airport Transfer, Tourist Transportation, Staff Pick and Drop, Dubai Hotel Transfer, Parties Shuttle Services, Events Charter, Sight-seeing, Group Travel of passengers outing,  Friends & Family Trips, Event, Trips & Tours Transportation, Dubai City Tour, Dubai School Bus
| | |
| --- | --- |
| Types of Buses | 20 Seater Bus Rental Dubai/ 22-23 Seater / 25-26 Seater |
| Brand in Use | Toyota Coaster, Mitsubishi Rosa, Nissan Civilian |
| Mode of Hiring | With Driver & Fuel, With Driver but without fuel |
| Capacity of Bus | 21 Seats + 1 Driver Seat |
| Fuel Type | Petrol/Diesel |
| Leasing Time | For Single Day , Weekly & Monthly |
| Features | Seats Belts, Fully Air-conditioned , High Roof, Wide, Radio , Cassette , Comfortable, Climate Control & Full insurance |
| No of Doors | 3 |
Enjoy your journey with high level of safety and comfort.You can also see other all vehicles fleet on daily, weekly and monthly basis services.
Are you looking for a Best Bus Rental transport company in Dubai?
Whether you are looking for classic bus or minibus, we have them all, from big to small.We offer the best bus rental Dubai & Sharjah rates in comparison in the market along with excellent customer service. 
Benefits of Hiring a 20 Seater Bus From Us
Book a Cheap 20 Passenger Bus in Dubai
Hire a 20-seater Coaster Bus in Dubai
Why Choose Our Rental 20 Seater Luxury Bus in Dubai
Benefits of Hiring a 20 Seater Bus From Us
Bus Rental Services for renting out Star buses in the area. For the needs of any group, they provide a variety of vehicles, including 20-seater buses. The following are the primary advantages of hiring a 20-seater bus in Dubai:
Safety: To maintain the highest level of safety, all of their vehicles are routinely repaired and inspected.
Comfort: 20-seater buses are roomy and comfy, guaranteeing that everyone may ride in comfort.
Reliability: The crew at  Star Passenger Transport Dubai is skilled and trustworthy, ensuring that your party will arrive on time each and every time.
Cost-effectiveness: 20-seater bus rentals are surprisingly inexpensive, making them a wonderful choice for large groups.
Book a Cheap 20 Passenger Bus in Dubai
Hire a 20-seater Coaster Bus in Dubai
Why Choose Our Rental 20 Seater Luxury Bus in Dubai