BUS RENTAL SHARJAH UAE
In Sharjah, there is a bus rental company called STAR Bus Rental. We offer a large selection of services, a large fleet of vehicles, and a large staff of devoted professionals, making us the perfect choice for high-quality bus rentals. We are the finest option if you need to book a luxury bus in Sharjah. We're here to take care of all your transportation requirements and to fulfill your desires for luxurious travel at reasonable prices. Our bus rental program offers a wide range of options, and the disciplined personnel behind it makes it one of the most well-run services for renting buses in Sharjah.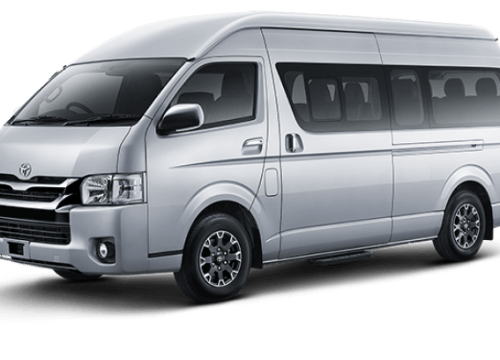 Hiace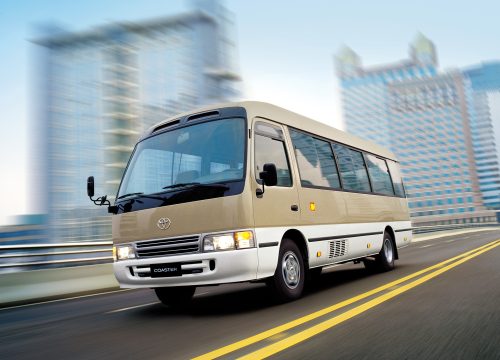 Coaster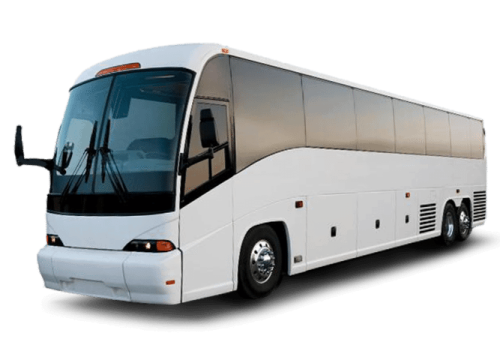 Bus
VIP BUS
Bus Rental Company Sharjah
Leading Bus Rental Company In Sharjah
With offices in both Dubai and Sharjah, Star Bus Rental Sharjah is the premier bus rental Sharjah company. If you're searching to hire a minibus, minivan, bus, coach, coaster, or luxury vehicle, we have a selection of high-quality cars for bus rental in Dubai & Sharjah. Our extensive fleet offers a wide selection of high-quality vehicles at competitive prices, including minibus rentals and school bus rentals that can accommodate groups of any size and are available around-the-clock, 365 days a year.
BUSES FOR RENT IN SHARJAH
Best Passenger Transportation Service In Sharjah
WE PROVIDE ALL TYPES OF PASSENGERS TRANSPORTATION IN UAE.
12, 14, 15, Seated Toyota Haice/ Midroof / Hyroof Minibuses / Luxury Van / MiniVan
22, 26, 30, 34, Toyota Coaster/ Mitsubishi Rosa / Tourist Minibuses / Minibuses .
35, 37 , 49 , 50, 53 Luxury Buses/ Coaches / Bus Charter .
What We Serve in Sharjah 
For Tour Programs, Picnic Parties, Wedding Parties, Lease to Schools Collages, Hotels, Site Workers, Companies, Staff & Labor Transportation.
Airport pick and drop, Family Tours, Group People Pick n Drop, Visitors Transport, Hotels Staff & Workers Transportation, School & College Students Transportation
Advance booking for your One Day Trip, City Tour, Family and Friends Tour/Picnic, Airport Pick n Drop, One day Pick n Drop over UAE
From Sharjah to Dubai tour trip, From Sharjah to Abu Dhabi transport , From Sharjah to Umm Al Quwain one day/ weekly Trip, From Sharjah to Ras Al Khaimah transport, From Sharjah to Fujairah trip/one day / weekly transport, From Sharjah to Khorpakkan tour transport trip, From Sharjah to Al Ain tour trip transport, From Sharjah to Ajman Transportation service
Satisfaction Guaranteed to Make You Happy!
Services Offered On Demand
Find out about the flexibility and convenience of our one-off services, which are designed to meet your specific transportation needs in Sharjah and offer a hassle-free, enjoyable experience.
Staff Transportation in Sharjah
Staff Transfer
22-30/26-34/49/60-66 Seater Bus
Labor Transport Sharjah
Labor Transfer
60/66/80/84 Seater Bus
School Transport Sharjah
School Bus Transfer
23/26/47/64 Seater Bus
Hotel Transfer Sharjah
Hotel to Airport
Hotel to Hotel
Sharjah Airport Transfer
Airport to Hotel
Airport Shuttles
One-Two Way Transfer
Sharjah to ----
Bus Shuttles
12 Seater Van Rental
Daily Rates
Monthly Rates
One Way Transfer
Two Way Transfer
Bus Shuttles
10/12/14/15 Seater
30 Seater Coaster 
Daily Rates
Monthly Rates
One Way Transfer
Two Way Transfer
Bus Shuttles
22/26/30/34 Seater
60-66 Seater Bus
Daily Rates
Monthly Rates
One Way Transfer
Two Way Transfer
Bus Shuttles
60/66/80/84 Seater
MINI BUS RENTAL SHARJAH
BUS RENTAL SHARJAH RATES
In Sharjah, the cost of renting a bus has dramatically grown in recent years. Due to the introduction of Salik tolls and the increase in fuel prices. Due to its convenience and dependability, Sharjah bus rental transportation is still a preferred option for many commuters despite these price increases. The services provided by bus rental firms in Sharjah range from short-term rentals to long-term agreements. making it simple to locate a transportation option that satisfies your requirements and financial budget. Additionally, a lot of bus rental organizations provide discounts for group or corporate reservations, making Sharjah bus rental transportation a cost-effective choice for enterprises.
FULL DAY RATES
All inclusive for max 10 hours a day. Full day rates.
50 Seater Luxury Bus AED 1,150
35 Seater Luxury Bus AED 950
22-30 Seater Coaster Bus AED 750
26-34 Seater Rosa Bus AED 750
10-12 Seater Hiace Bus AED 550
12-14 Seater Hiace Bus AED 550
HALF DAY RATES
All inclusive for max 5 hours a day. Half day rates.
50 Seater Luxury Bus AED 800
35 Seater Luxury Bus AED 700
22-30 Seater Coaster Bus AED 550
26-34 Seater Rosa Bus AED 550
10-12 Seater Hiace Bus AED 450
12-14 Seater Hiace Bus AED 450
Hire Bus Rental in Sharjah
Finding the Benefits: What Makes BUS RENTAL IN SHARJAH Unique?
It can frequently be confusing to use Sharjah's varied selection of travel alternatives. Among the many options, BUS RENTAL SHARJAH has consistently proven to be a cornerstone of competence and reliability. They stand out from the competition thanks to their sizable fleet and ongoing commitment to customer satisfaction. Here is a detailed explanation of the unique advantages they offer to demonstrate why so many people pick BUS RENTAL SHARJAH for their transportation requirements.
| Benefits | Description |
| --- | --- |
| Cost-Effective | For big events, renting a bus can be more affordable than using another means of transportation. |
| Variety of Options | From minibuses to luxury coaches, BUS RENTAL SHARJAH provides a variety of buses to meet different needs. |
| Professional Drivers | All buses have trained, licensed drivers who are knowledgeable with the routes and sights in Sharjah. |
| Safety Measures | With modern safety measures like seat belts, first aid kits, and emergency exits, buses can now be traveled on. |
| Flexible Scheduling | Buses can be rented at any moment and for any length of time, giving planners flexibility. |
| On-Board Amenities | Wi-Fi, air conditioning, reclining seats, and entertainment systems are features that are found on many buses. |
| Eco-Friendly | Compared to many vehicles, buses, especially when they are full, have a smaller carbon impact per passenger. |
| Stress-Free Experience | There is no need to be concerned about parking, directions, or vehicle upkeep. |
FAQs About Bus Rental Services in Sharjah
What kinds of buses are available for rent from Star Bus Rental Sharjah?
There are many different types of buses available for rent in Dubai from Star Bus Rental Sharjah, including luxury buses, minibusses, coaches, and regular buses. Usually, the fleet contains of well-kept cars with various seating arrangements to accommodate various group sizes.
With the rental buses, are drivers provided?
Yes, If you rent a bus from Bus Rental Sharjah, the drivers will usually be knowledgeable and courteous. Passengers can travel safely and comfortably because these drivers are familiar with Dubai's routes and traffic patterns.
When renting a bus in Sharjah, is fuel included?
If the client requires the bus for longer than two weeks or a month, it is best to provide it without fuel. Bus rentals are typically provided with driver and fuel for one week or less. Please be cautious when using the correct fuel because some buses and vans have diesel engines while others have fuel ones.
Which bus sizes are there?
There is a bus option for any group! We have big coach buses (50 Seater Bus Rental, 60 seaters Ashok Leyland A/C, 80 Seater Ashok Leyland), minibusses (22 Seater Toyota Coaster, 30 Seater Coaster, 35-seater luxury bus for rent), minivans (14 Seater Hiace for rent, 12 Seater Hiace).
Is it possible to plan a trip with many stops?
Yes, you can plan a journey with several destinations. It may be a one-way excursion or a tour that includes several stops. In every case, we will locate the ideal bus for you and your group.
Why should I reserve a bus through Star Bus Rental Sharjah?
At starbusrental.com , we make it easy for you to choose the greatest bus options at fair costs from reputable, secure, and insured bus companies. Please let us know if there is anything we can do to improve.
For a week, may I rent a bus?
You may indeed rent a bus for a week. Every client receives individualized attention as we search for the best solutions for their trip.
What details are required to make a bus reservation?
Date, time, pick-up and drop-off addresses, and the number of passengers on the bus. Any bus model is available for you to select.
Do we offer travel services in the UAE?
To ensure that you have the greatest knowledge and adventures, Star Bus Rental Sharjah is here. For city trips including Dubai City Tour, Abu Dhabi City Tour, Hatta Tour, Khorfakkan Tour, Dibba Tour, RAK Tour, Sharjah Tour, and Al Ain Tour, we offer luxurious buses that are fully furnished with all the amenities. Take one of our buses and go off on these educational and exciting tours. Dubai's economy depends heavily on tourism, and we are happy to contribute to it. Our crew puts a lot of effort into making sure that our visitors have a special time in Dubai. So board one of our buses and take a trip!
Can I come to the office?
Yes, we can have visitors, if you have any questions we are happy to help you. or call us at +971 52 744 45009 or email starbusrental@gmail.com
For how many persons can I reserve a bus?
You can reserve a bus for however many persons you like. If your group requires more than one bus, we will make the necessary arrangements. It depends on how many people a given bus can hold. Our largest buses can accommodate groups of up to 60 passengers; school buses, which feature benches in place of seats and can accommodate groups of up to 70 or 75 passengers, can also be reserved if you have a smaller group.
How do I reserve a bus?
One needs to be very explicit about his wants before they may hire a bus. Make a schedule; consider the number of passengers, the amount of luggage, and the pick-up and drop-off sites while creating your plan. dates and years of the pick-up and drop-off times. Similar to a one-way excursion, a roundtrip. The length of the requirement, such as a day, a week, a month, a year, or how much?