30 Seater Bus Rental In Sharjah UAE
Star Bus Rental Sharjah offers rental of a 30 seater bus rental in Sharjah at the most affordable rate, There are various types of mini buses available for rent, including the 20 seat mini bus rental Sharjah, the 22 seater minibus for rent in Sharjah, and the 12 to 14 seater Hiace bus rental Sharjah. A minibus is typically a Toyota coaster. The Sharjah bus rental company in the UAE uses a variety of terminology and time. Welcome to Star Bus Rental Sharjah . We offer the most affordable 30 seater bus for rent in Sharjah.
Our broad fleet of modern equipment and excellent customer service have earned us a solid name within the sector. The best option is a rental bus with 30 seats bus for staff. Large groups may travel comfortably and happily with the 30 seater bus for rent we have available for rent in Sharjah. With Toyota's renowned quality, dependability, and longevity, Coaster is likely to be with you for the long haul. A state-of-the-art air conditioning system also ensures a comfortable environment at all times.
Are you searching for a Sharjah coach or hire bus to take you to the city's numerous historical sites? Coach for hire, touring coaches, and chartered bus services are just a few of the cozy, practical choices offered by Coach & Bus Hire. Coaches are ideal for special occasions, weddings, conferences, as well as outings with the family and the workplace. In the Northern Emirates, in Sharjah, are some of the most fascinating destinations to visit.
Why 30 seater Coaster bus for rent in Sharjah ?
Almost 70% of the tourism activities in the United Arab Emirates are attracted to Sharjah, which also accounts for 80% of the construction market, office staff, general activities, and hospitality staff. These buses are also used for the transportation of bank employees, local pick-up and drop-off services, airport transfers, etc. Therefore, act quickly to take advantage of a discount on a 30 seater coaster bus now – Sharjah coaster bus rental at the lowest daily rates. About 30 seater Coaster bus rental in Sharjah and coaster bus for rent Sharjah with capacity for 29 passengers with one extra seat for driver and also 5 folding seats in center and in this 30 seater Coaster can hold up to 10 small bags.
This air-conditioned, 30-seat passenger bus is ideal for bigger transit parties of more than 17 people. We strongly advise hiring a Coaster bus 30 seater for short staff transfers, such as picking up staff from hotels, dropping them off at work, and then picking them up again, company staff transfers, weeding transfers, event transfers, and lobar transfers in Sharjah. Coaster bus rental Sharjah is a good choice if you're looking for a 30 seater bus for rent to travel to Dubai or Sharjah with family and friends.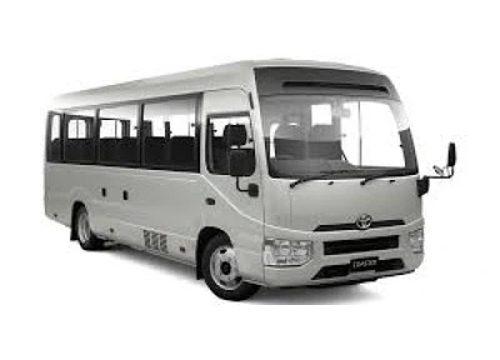 Coaster Bus
AED5500
---
BUS RENTAL SHARJAH RATES
20 to 30 seater bus for rent typically make up a minibus. Minibus rental Sharjah consists of vehicles with seating capacities of 18 seater, 20 seater, new model 22 seater minibus, 23 seater, 25 seater coaster, and 30 Seater coaster bus Bus for rent in Sharjah. Our bus fleet consists of vehicles with 12 to 84 seats. We have a Hiace with 14–15 seater Hiace Van. 26-34 seater Mitsubishi Rosa and 20–30 seater Coaster. In addition, we have a 35-37 passenger luxury bus. And luxury buses with 45 to 50 seats. Finally, we have two AC buses for rent: a 60–66 passenger and an 80–84 seater.
30 Seater Coaster Bus
AED600Per Day
---
AED 700
For a maximum of 5 hours each day
30 Seater Coaster Bus
AED800Per Day
---
AED 900
For a maximum of 10 hours each day
One Way Transfer (Sharjah to)
Sharjah to Fujairah, Sharjah to Al Ain, Sharjah to Khorfakkan, Sharjah to Dibba, Sharjah to Kalba, Sharjah to RAK
| Bus Rental Sharjah | Max Seats/ Ideals Seats | Rates |
| --- | --- | --- |
| 30 Seater Coaster Bus | 30/22 | AED 650 |
Two Way Transfer (Sharjah Inside)
Sharjah to Sharjah Transfer, Sharjah to Dubai Transfer
| Sharjah Bus Rental | Sharjah to | Price |
| --- | --- | --- |
| 30 Seater Bus Rental | Sharjah to Sharjah Bus | AED 400 |
| 30 Seater Luxury Bus | Sharjah to Dubai Bus | AED 700 |
Sharjah Airport Transfer
Maximum airport valet fee of 30 minutes, Meet and Greet not included , 15 Bags 
| Sharjah International Airport | Sharjah to | Price |
| --- | --- | --- |
| 30 Seater MiniBus | Sharjah Airport to Sharjah City | AED 500 |
| 30 Seater  Bus | Sharjah Airport to Dubai City | AED 600 |
BUS FOR RENT IN SHARJAH
30 Seater Bus For Rent Sharjah
Book a 30 passenger bus for rent in Sharjah, such as the Mitsubishi Rosa, if you are moving a large group of office workers or laborers. The most popular option for employee and labor transportation is our 30 passenger bus.
You can be confident that choosing 30 seater bus rental in Sharjah will be the perfect decision because we always strive to provide the greatest experience to each and every one of our customers.
Why Hire a 30 Seater Bus in Sharjah from us?
Both big enough to carry the squad and small enough to transport them quickly to their destination. Our Sharjah rental bus with 30 seats strikes a decent balance between capacity and accessibility.
If you're looking for a 30 passenger bus for rent in Sharjah, they provide a comfortable ride with complete air conditioning, making them suitable for both long and short drives.
Finding a transport provider in Sharjah is one of the most crucial considerations you'll need to make when organizing an event there. For medium-sized groups, renting a 30 passenger bus can be the ideal solution because it provides a convenient and pleasant means of transportation.
Why Choose Us 30 Seater Bus from Star Bus Rental?
We're committed to providing outstanding service if you are looking for 30 seater bus for rent in Sharjah, so you can rest assured that you'll be getting the best bus rental experience when you work with us. We're always happy to answer any questions related to 30 seater bus for hire in Sharjah you may have, and we'll make sure that your rental goes smoothly from start to finish.
What are Benefits Of Hiring 30 Seater Bus for rent?
Effective in terms of cost
Automatic
Increased Productivity and Safety:
Whether a driver is present or absent, availability is same-day.
Clean, brand-new buses
BUS RENTAL SHARJAH COMPANY
All you have to do is ask, and we may modify our service to meet your needs. Call or use Whatsapp for more information. For prices kindly drop inquiry in the form or by email. If you're looking for a 30 Seater Bus Rental in Sharjah, give us a call.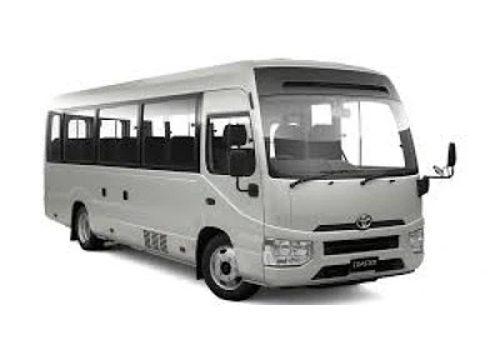 20 Seater Bus Rental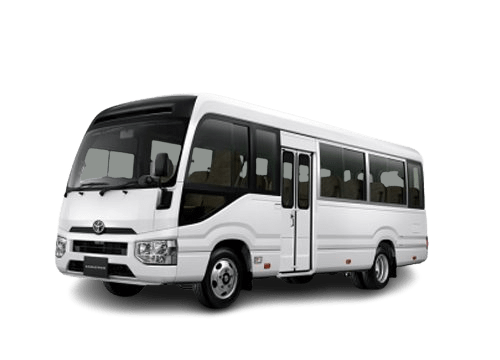 22 Seater Bus Rental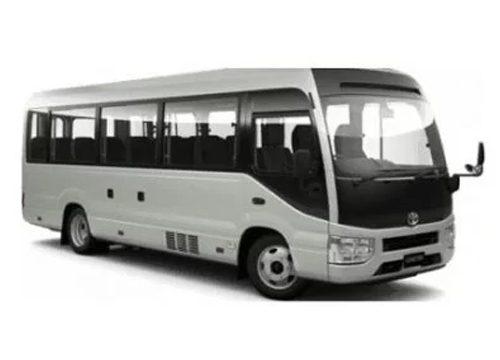 25 Seater Bus Rental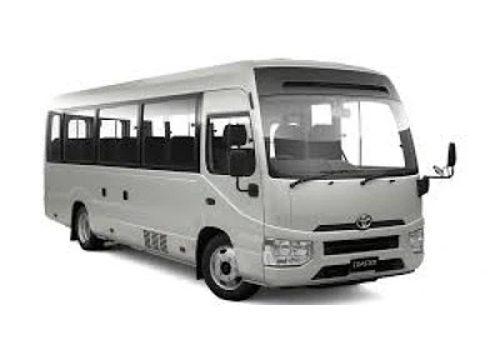 30 Seater Bus Rental