22 Seater Mini Bus in Dubai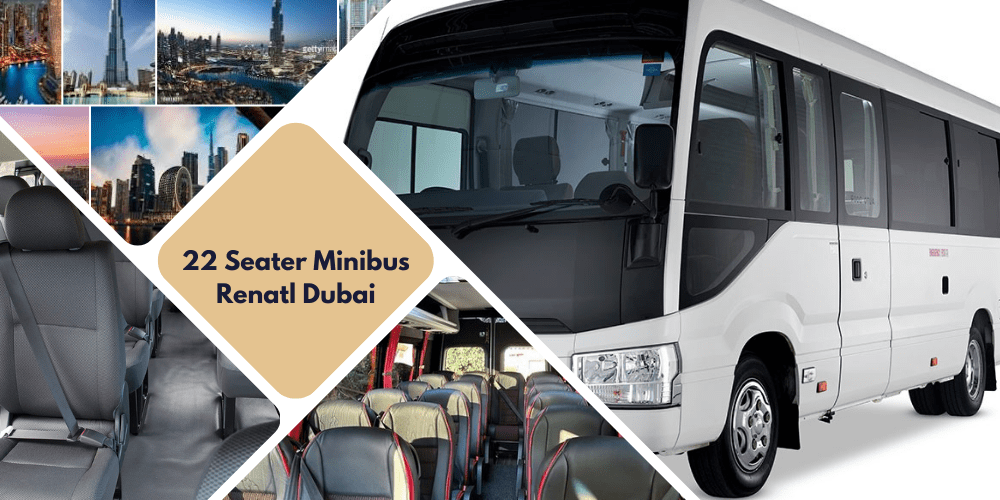 Description:
Looking to rent a 22 seater Mini bus rental in Dubai and 26 Seater minibus rental in Dubai or Sharjah, United Arab Emirates?
Yes, you've come to the right spot.
For bus rentals, tours, and excursions, we provide Mini Bus rentals in Dubai, United Arab Emirates. Click on it
You must rent a 22 seater Minibus rental since it is convenient to go around the city and has enough room for passengers.
We provide both air-conditioned and non-air-conditioned 22-seater minibus. Effectively, hiring a 22 seater Minibus rental for a small party of people is the appropriate choice.
For a group that needs a lot of room for kids and luggage and has up to 22 heads, renting a Toyota Coaster van with a capacity of 22 seats and a driver is the ideal transportation option.
You can travel pleasantly if you rent a private van in Dubai with driver services if you are a large group in need of a hassle- and stress-free transportation alternative.
Minibus rental Dubai with driver available for all long and short trips, corporate staff pick and drop off, corporate lunch and dinner, Picnic and event celebrations, Events and exhibitions
The bus is equipped with the market and demand and is available on daily basis, weekly and monthly basis as well as airport transfer, hotel transfer point to point transfer, on-demand bus rental service and private bus rental service in Dubai, Abu Dhabi and Sharjah.
The main advantage of these buses is it is very helpful on a city tour and is very economical.
It can accommodate up to 20-25 People for a city tour and up to 15 people for airport arrival and departure based on luggage size.
The main target area of this bus is corporate staff pick and drop-off.
Features:
All the safety and contemporary features are standard on our completely new automobiles.
When you hire a van from us with a driver, you won't have to worry about gas/fuel usage, tolls/salik, or any travel restrictions because everything will be included and excluded from overtime if necessary.
Our business has always been quite selective when it comes to hiring drivers; we only work with well-educated, young, and experienced drivers.
You must pay the driver on the first day after making the reservation; no advance payment is required.
As part of our instant booking policy, you can reserve your minivan with a driver by calling, sending an email, or using WhatsApp to inform us of your route.
24/7 online booking services.
Numerous contemporary fleets are available, ranging in size from 9 to 50 seats.
Types of service we offer:
Minibus rental dubai
Minibus rental dubai
22-seater bus rental in Dubai
Bus rental Dubai price:
| | |
| --- | --- |
| Dubai Airport Arrival / Departure  | Starting from 250 AED  (Dubai airport parking not included) |
| DWC airport arrival | Starting from 450 AED |
| One-way transfer to Dubai (within 30 KM) | Starting from 350 AED |
| City tour Dubai 10 Hours | Starting from 600 AED |
| One-way transfer Abu Dhabi | Starting from 600 AED |
| Abu Dhabi airport arrival to Dubai | Starting from 650 AED |
| Full-day City tour Abu Dhabi (10 Hours) | Starting from 650 AED |
22 Seater Mini Bus Rental
The main question is how to hire a bus from us.
It is very simple and easy to try to
call us at 00971527444509
WhatsApp us at 00971527444509
email us : starbusrental@gmail.com.
We are 24/7 available to provide the best solution for your bus rental needs.
Balanced growth and it's one of the best bus rental Dubai.
We provide affordable hire packages, first-rate transportation solutions around Dubai UAE.
Using one of the largest automobile rental companies in Dubai, you may rent a vehicle that fits your schedule.
You can use your choice of rest stations, detours to drive to Dubai's winding motorways, sparkling beaches.
May rent a variety of vehicles, including a minibus rental Dubai at affordable rates from any place.
You can even hire a driver.
One of our primary services is a chauffeur-driven bus. If you're thinking about unique autos, our firm will make the necessary arrangements.
We are a bilingual team of experts in the transport industry, particularly in the Middle East, who provide high-quality service.
Our commitment to meeting the requirements of our clients, providing them with distinctive experiences, and helping them live longer through creative relaxation is the source of our passion.
We are available to assist our customers seven days a week, whenever they need us, because we are fully aware of the demands and vibrancy of the hospitality and tourism business.
Comfy & Elegant Every Mile Over. We are the top resource for renting buses online at Dubai.