09/12 Mini Van Rental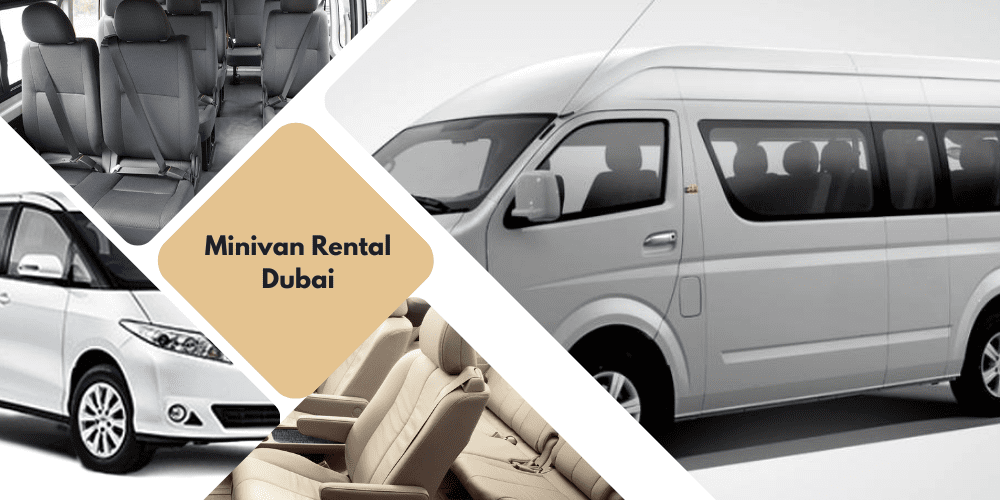 Description:
12 Seater Van rental Dubai with driver
For a group of up to 06-10 people, 8 Seater VAN rental and 12 seater Mini Van Rental Dubai or Sharjah is the best option.
In the last 5 years, the term "12-seater HiAce van" has been used frequently in the transportation business; some people also refer to it as a "minibus 12-seat HiAce.".
We are among the leading car rental businesses in Dubai, providing services for renting 08 Seater 12- and 14-seater vans.
Choosing us as your transporter in Dubai would enable us to greatest assist you in exploring the splendor of Dubai and other UAE nations.
It is very ideal Mini VAN used for small group from 06 People and 10 People.
08 and 12 Seater Seater Mini Van can be used either for small tour, long tour Dubai and Abu Dhabi, airport arrival and departure transfer service, event and exhibition transfer service point to point transfer service and city to city transfer service.
Airport arrival and departure this 08 Seater VAN can be used for maximum 05 people and 12 Seater VAN can be used for 08 People depend upon the size of the luggage.
The seat is very comfortable and luxury in nature to make the journey more comfortable for long trip, Abu Dhabi, Al Ain, Khurfakkan, Hatta and Ras Al Khaimah.
Allow our skilled drivers to take you wherever you want to go in the UAE in a luxurious 12-passenger van. Get a minivan rental with a driver in Dubai and take full advantage of your incredible trip in the UAE.
It is mini budget car and under the budget, and cheap rental service than hiring other private company taxi service for city tour and point to point service. This mini VAN rental available with Driver, fuel and salik. Airport transfer service is not included in the rental cost. The booking can be hold for maximum 10 hours and the driver will wait till the guests return.
Features:
12-seater HiAce van popular and frequently used for family transportation, visitor transportation, picnic transportation,
Perfectly designed for Dubai to Abu Dhabi transfers and guest transportation in the United Arab Emirates.
For a group of up to 12 passengers, the Toyota HiAce van is the ideal option.
Due to the harsh weather and high temperatures in Dubai, United Arab Emirates, a high grade of transportation with all the amenities is required which is provided by a 12-seater HiAce van.
Types of service we offer:
8 seater car rental dubai
Mini van rental dubai
Minibus rental dubai
12 seater van rental dubai
Bus rental Dubai price:
| | |
| --- | --- |
| Dubai Airport Arrival / Departure | Starting from 220 AED (Dubai airport parking not included) |
| DWC airport arrival | Starting from 400 AED |
| One way transfer Dubai (within 30 KM) | Starting from 250 AED |
| City tour Dubai 10 Hours | Starting from 500 AED |
| One way transfer Abu Dhabi | Starting from 450 AED |
| Abu dhabi airport arrival to Dubai | Starting from 450 AED |
| Full day City tour Abu Dhabi (10 Hours) | Starting from 550 AED |
Mini Van Rental Dubai
With high professional driver and chauffer service the private car rental is ideal for small group of family friends, other VIP group for meet and greet, city tour, and airport/hotel transfer service.
We provide this private VAN rental service to group of tourists for city tour, shopping malls, events and exhibitions and other professional transport service at your comfort.
We are working in the field of transport from more than 06 Years and very are happy clients from all over the world.
Why to choose us:
Low budget bus rental service
Multiple choice of fleets from small to big bus
Professional driver
No advance booking service
On demand bus service
Emergency bus transfer service
The main question is how to hire bus from us.
It is very simple and easy by try to
Call us at 00971509107874
Whatsapp us 00971527444509
Email us starbusrental@gmail.com.
We are 24/7 available to provide the best solution of your bus rental needs.
FAQs:
How to hire Minivan for city tour
As Minivan is economical for city tour and other transfer
How I can pay by hiring minivan
How many hours I can hire Minivan for city tour
How many people Minivan can accommodate for airport arrival and departure
The Hyundai H1 is a dependable vehicle for moving people about.
Larger groups that want to travel together can use it.
The H1 is a 5-door van that comes in a variety of sizes, although the 12-seater Van rental Dubai option is most popular.
Both the cabin and cargo area are of a good size. It has an automated transmission with remarkable mileage for a 2.4-liter petrol engine.
A people mover with the necessary features for a van this size, the utility vehicle is a people mover.
Other features include dual air conditioning for front and back seat passengers, a reverse camera, parking sensors, power windows, cruise control, USB charging ports, and more.
The Hyundai H1 is a fantastic all-rounder due to its proportions and final appearance.
The Hyundai H1 is particularly well-liked among business users. Instead of buying a company van, they would rather rent it long-term on a monthly basis.
Even as a chauffeured service with pick-up or drop-off at DXB airport or other predetermined destinations in Dubai, our partners provide the H1.
On vacations, business trips, and airport transfers, families and business travelers favor this car the most.
It is unquestionably roomy and adaptable, fashionable and opulent.