Mitsubishi Rosa Bus For Rent 34 Seater in UAE 
In Dubai and Sharjah, a 34-seat Rosa bus is available for rent in excellent condition with a driver and fuel. One of the most dependable cars for passenger transportation in the UAE is the Mitsubishi Rosa. The 34-seater Rosa bus is the perfect vehicle for 26 passengers and their belongings. It is utilized for airport transfers, staff transportation, labor transportation, and school transportation. The maximum capacity in the compact ranges is 30 seat coasters, therefore a 34 seat bus is a useful addition to the fleet. The business offers all of Mitsubishi Rosa's possibilities to its devoted customers.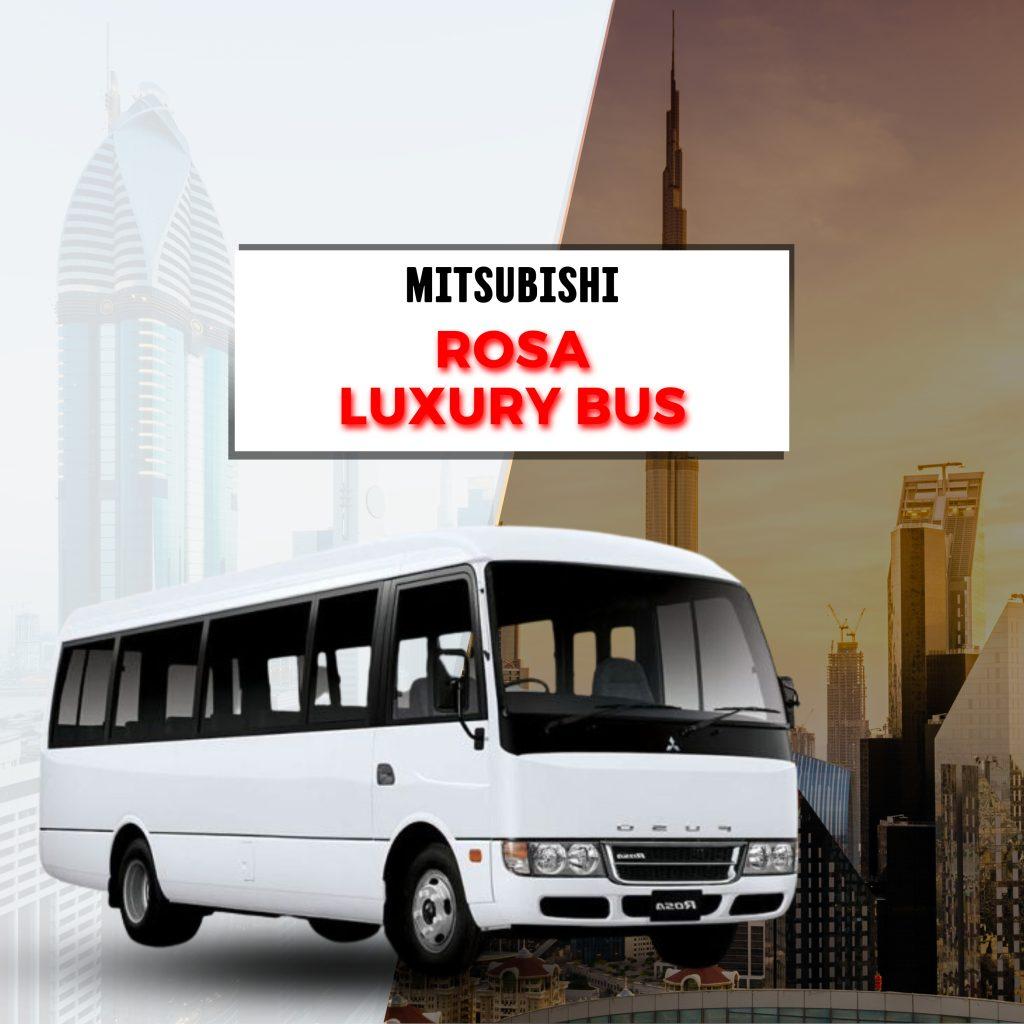 RENTABLE 34-Seater Rosa Bus For Rent In Dubai
Anyone who rents the 34-Seater Rosa Bus will love the amenities of a Mitsubishi Rosa. It's a pain to arrange carpools or rely on crowded public transportation. For staff transportation, university/campus transportation, hotel transfers, sightseeing, airport transfers, school transportation, events, and other uses, a 34-seater Fuso Rosa is ideal. Contact SBRT to reserve a safe and effective mode of transportation for your upcoming trip!
34 Seater Rosa Bus
34 Seater Bus in Dubai Cost ?
5-10 Hours (AED 600 - 850) Inside Dubai
Out of Town trip AED 1050
Mitsubishi Rosa, Mitsubishi Rosa 34 Seater, 34 seater rosa, 34 seater rosa bus for rent, Rent a 34 seater bus
RENTAL OF A 34-SEATER ROSA BUS IN SHARJAH AND DUBAI
The 34-seat Mitsubishi Rosa bus provides you with the comforts of safety and room. You can charter a large coach for your group in a 34-seater Rosa bus for the same daily, weekly, and monthly rates in both Dubai and Sharjah. Visit Dubai Bus Rental Prices for more information on rates and costs.
From the initial phone call to the final mile, our knowledgeable staff will support and assist you to ensure that your bus rental and trip go exactly as planned. All of our vehicles, including limos, mini-coaches, large charter buses, corporate buses rentals, are well-maintained and undergo routine inspections to guarantee a speedy and safe trip. Our clients may anticipate and delight.
Mitsubishi Rosa 34 Seater Bus Specification
| | |
| --- | --- |
| Includes | Tourism , Staff Transport, Hotel Transfer, Sight-seeing, Airport Transfer, School Transport, Events, Party Bus |
| Max & Min Capacity | 33 Seats + 1 Drivers seat |
| Luggage Capacity | 20 Normal bags. |
| What includes | Spacious inside, Seat Belts,Push-back Seats, Clean Interiors, AUX, Audio, MIC, Wifi |
| Type of Insurance | Full & comprehensive insurance for the driver, passengers and the vehicle itself |
| Fuel Type | Petrol |
| Daily Rent | AED 1000 Per day, AED 650 half day, Bus with driver & fuel |
| Airport Transfer Rate | AED 550 + Airport Parking if any (One way or hotel transfer AED 550) |
| Weekly Rent | AED 5000 – 6000, Bus with driver & fuel daily |
| Monthly Rent | AED 9000 – 12000, 26 Days |
| Max Hours per day | 10 Hours per day |
| Origin | Japan |
| No of Doors | 3 |
34 Seater Bus Price in Uae
 RENTABLE 34-Seater Rosa Bus For Rent In Ajman
The best 34 Seater Bus Rental Ajman bus hire with driver is what we have to offer. We provide 34-seater buses for rent in Ajman that are safe and reliable. We provide 34-seater bus rentals in Ajman with top-notch cars and qualified drivers. The 34 Seater Bus For Rent caters to diverse travel needs, from corporate events to school excursions and group outings. Get a free estimate and make a reservation online right now!
34 Seater Rosa Bus
34 Seater Bus in Ajman Cost ?
5-10 Hours (AED 650 - 750) Inside Ajman
Out of Town trip (AED 700 - 900)
Ride in comfort to schools, colleges, weddings, sports tournaments, church retreats, field trips and more. Ready to get started? 
All you have to do is ask, and we may modify our service to meet your needs.Call or use Whatsapp for more information. For prices kindly drop inquiry in the form or by email. If you're looking for a 34 Seater Mitsubishi Rosa Bus for rent, give us a call.