50 Seater luxury bus for rent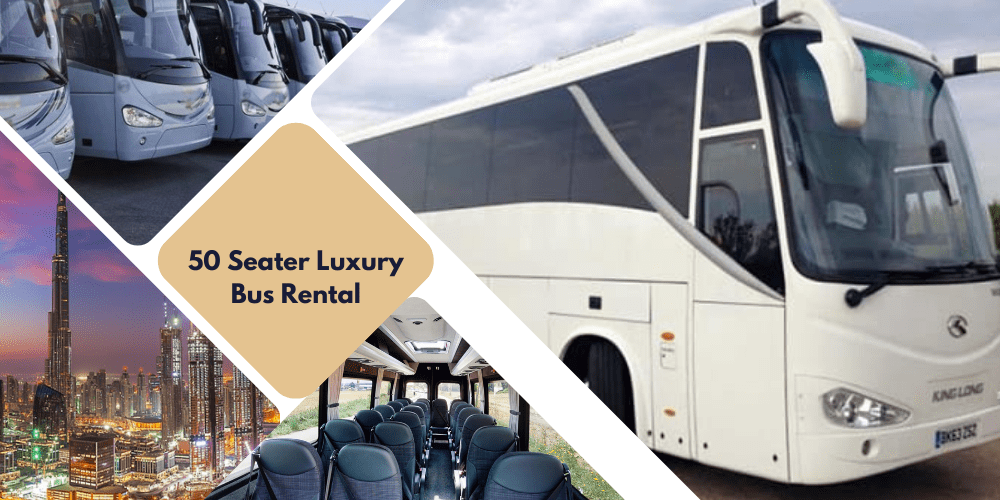 50 Seater Bus rental Dubai
The greatest option in Dubai for large groups of travelers or families is a 50 Seater luxury bus rental Dubai.
Star Bus Rental offer the bus at affordable rates, which is ideal for parties of up to 42 to 51 people, including the driver.
For hassle-free travel, we provide luxury buses in Dubai with trained drivers.
In order for you to have a pleasurable trip, we also concern about your safety and comfort.
You can book a luxury bus from Dubai Bus Rentals, the city's top provider of such services.
The 50 Seater is mostly used for travel, large gatherings like weddings, annual gatherings and festivities, point-to-point transfers, and is excellent for transporting athletes to sporting events.
A luxury 50-seater bus can hold up to 49 passengers, whereas a 53-seater bus can hold up to 52.
42 individuals are the maximum that can enter or exit an airport, depending on the size and weight of their luggage. For luggage, there is a separate large compartment.
Due to its effective air conditioning system, it is frequently used by visitors in hot weather and is in high demand for major sporting events like rugby, Formula 1, T20 cricket, etc.
50-seater Dubai bus rentals are ideal for large parties of 42 to 51 people since they have features like seat belts, an automatic door, temperature controls (AC & heat), a CD/AM/FM audio, adequate space for a comfortable trip, DVD players, and LCD TVs accessible.. 
The movement of VIP guests, particularly athletes from hotels to stadiums and from stadiums to hotels, is the primary emphasis of 50-seater buses, 53-seater buses, and coaches.
It can also be utilized for shuttle bus services for events and exhibitions, event and exhibition arrival and departure, city-to-city transfers, long and short tours, corporate personnel pick-up and drop-off, corporate tours, lunches, and dinners.
More than 34 passengers should take a 50-seat luxury bus, which we highly suggest. The bus is more comfortable for long travels because there is a lot of space between the seats.
In the UAE, luxury 50 seat buses have been very popular, especially for transportation services in Sharjah, Khorfakkan, Hatha, Dubai Tour, and Abu Dhabi City Tour.
Features:
The best option for a large group of tourists is to rent a 50-seat luxury bus in Dubai.
This is perfect for large families traveling, ideal for tour work, best for Dubai city tours and sightseeing, airport transfers, best for Abu Dhabi tours,
This luxury bus is perfectly designed for wedding and exhibition transport, and player transportation. etc.
We take great care of your security and comfort so that you can travel in peace.
Types of service we offer:
Luxury bus rental dubai
50 seater bus rental dubai
53 seater luxury bus rental dubai
Bus rental Dubai price:
| | |
| --- | --- |
| Dubai Airport Arrival / Departure | Starting from 500 AED (Dubai airport parking not included) |
| DWC airport arrival | Starting from 750 AED |
| One way transfer Dubai (within 30 KM) | Starting from 500 AED |
| City tour Dubai 10 Hours | Starting from 1100 AED |
| One way transfer Abu Dhabi | Starting from 950 AED |
| Abu Dhabi airport arrival to Dubai | Starting from 950 AED |
| Full day City tour Abu Dhabi (10 Hours) | Starting from 1150 AED |
50 Seater Luxury Bus Rental
The main question is how to hire bus from us.
It is very simple and easy by try to
Call us at 00971509107874
Whatsapp us 00971509107874
Email us starbusrental@gmail.com
We are 24/7 available to provide the best solution of your bus rental needs.
FAQs.
How to hire luxury bus rental in Dubai
What is the maximum capacity of 50 seater bus for city tour
How I can pay for booking 50 seater bus
How many hour I can book 50 seater bus for city tour
Does 35 seater have luggage space
There are 50–53 luxury buses, ranging in size from those seating 45 passengers to those with 53 seats. We offer a wide range of vehicles, including luxury buses, vans, and minibuses, that you can pick from for your trip.
You will enjoy the most pleasant trip in the UAE with the help of our 50-seater bus hire in Dubai.
We are an established company that provides bus, vehicle, and car reservation services.
The services are highly praised by our esteemed clients for their dependability and effectiveness.
Our knowledgeable drivers and tour guides offer these services in unique ways.
These professionals interact with the clients to learn about their wants and cater their services to those needs.
In order to meet their specific needs, we provide our respected clients bespoke solutions.
Due to our honest business procedures and open communication, we have gathered a substantial clientele across the country.
A 50-seater luxury bus rental in Dubai has 49 full seats with adjustable headrests.
The majority of hotels use these kinds of transportation to transport guests from Dubai International Airport (DXB) to hotels or vice versa.