35 Seater luxury bus for rent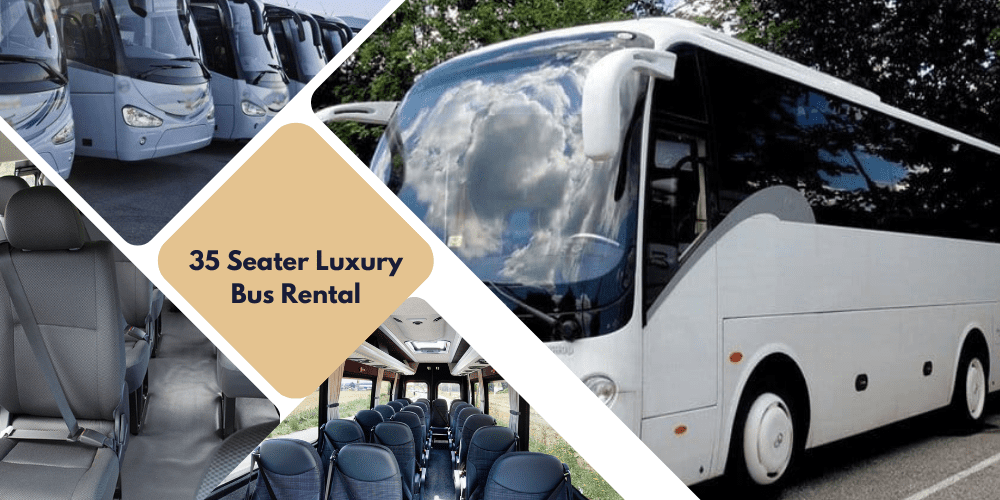 35 Seater luxury bus Rental Dubai with Driver
A 35 Seater luxury bus hire in Dubai is the perfect choice for groups of up to 33 passengers who are carrying luggage.
We are the company you can trust; we collaborate with many domestic and international travel agencies, and we have a long history of consistently delivering tourists safely.
For individuals, families, and groups of friends who want to enjoy a luxury bus tour of Dubai or Sharjah, we can rent out 33- and 50-seater luxury buses with drivers.
Get a great price on a 35- or 33-seat luxury bus rental in Dubai right away and take a luxurious voyage in comfort with your family.
Most tourists use the 35 and 33 Seater models, which are quite comfortable, tidy, well-maintained, and have excellent AC systems.
For travel-related purposes, airport arrivals and departures, transfers between locations, weeding transport services, and other transportation needs in the summer, a 35-seater bus is advised.
Due to limited luggage capacity, a 35-37 seat luxury bus can hold up to 32 passengers for point-to-point transfers and tourism purposes, but only up to 23 passengers for arrivals and departures.
The best option for large family transportation in Dubai, the best option for tour work, the best option for an Abu Dhabi tour from Dubai Transportation, and the best option for an Abu Dhabi city tour and sightseeing. Luxury Bus 35-Seater Rent Dubai or Renting 33 Seat Luxury Buses.
For extended trips, the 35-seater luxury bus is exceptionally comfortable. The car's seats are very comfy, which makes the trip more enjoyable, and it has an excellent air conditioning cooling system.
Tourism is the primary emphasis of the 35-seater luxury bus because tourists utilize it frequently. We always recommend 35 seater buses when given the choice between 30 seater buses and 35 passenger buses.
It costs a little less than a coaster bus with 30 seats.
Other uses for which we offer transportation services include shuttle bus service for events and exhibitions, weeding pick-up and drop-off, corporate excursions and meetings, lunches and dinners, pick-up and drop-off for VIP guests, airport arrival and departure, etc.
While the maximum capacity for airport arrival and departure is 23 persons, depending on the size of the luggage, the maximum capacity for tourism and transportation purposes is 33 seats.
Features:
Your travel will be comfortable thanks to recliner seats and plenty of legroom.
On every luxury coach, there is free Wi-Fi, a power outlet, and an air conditioner.
There won't be any complaints regarding cleanliness.
As they use less gasoline than personal vehicles, you help the environment.
A big number of people can travel comfortably in a luxury bus.
Types of service we offer:
Mini luxury bus rental dubai
Luxury bus rental dubai
35 seater luxury bus rental dubai
Bus rental Dubai price:
| | |
| --- | --- |
| Dubai Airport Arrival / Departure | Starting from 400 AED (Dubai airport parking not included) |
| DWC airport arrival | Starting from 600 AED |
| One way transfer Dubai (within 30 KM) | Starting from 500 AED |
| City tour Dubai 10 Hours | Starting from 800 AED |
| One way transfer Abu Dhabi | Starting from 750 AED |
| Abu Dhabi airport arrival to Dubai | Starting from 750 AED |
| Full day City tour Abu Dhabi (10 Hours) | Starting from 900 AED |
35 Seater Luxury Bus Rental
The main question is how to hire bus from us.
It is very simple and easy by try to
Call us at 00971527444509
Whatsapp us 00971527444509
Email us starbusrental@gmail.com.
We are 24/7 available to provide the best solution of your bus rental needs.
FAQs.
How to hire luxury bus rental in Dubai
What is the maximum capacity of 35 seater bus for city tour
How I can pay for booking 35 seater bus
How many hour I can book 35 seater bus for city tour
Does 35 seater have luggage space
Moving big masses of people is necessary. Our 35-seater luxury bus hire in Dubai is the ideal option for meeting your needs.
Whether you need a car for a road trip, school field trips, or airport transfers, we have a wide range of wonderful possibilities. For your comfort, each minibus has speakers, wi-fi, and full air conditioning.
We offer exceptional quality at affordable prices throughout Dubai for both private hire and contract rentals.
It can be expensive and time-consuming to plan a trip for a large party. You can now unwind and travel in comfort to all of your favorite places with a 35-seater minibus with a driver in Dubai.
Whether you're traveling alone, with friends, or with family, our 35-seater minibus with a driver in Dubai is designed to make the trip enjoyable.
There is ample room for everyone, so you may relax and even freshen yourself before arriving at your destination.
You may simply board and unwind because we also offer door-to-door service.
We are professionals at providing opulent vehicles for corporate events, weddings, and personal travel.
Our 35-seater hire bus will make your journey as simple and secure as possible. It is built for the greatest gatherings.
Additionally, because you will have a seasoned driver by your side thanks to our professional service, you will be able to fully appreciate being taken care of on your special day.